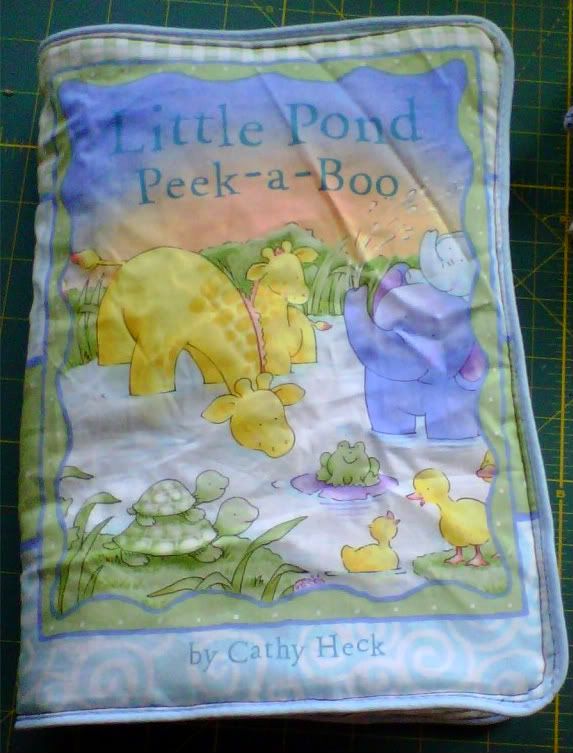 Another baby shower, another baby gift. I had a root canal on Friday--& it was much more traumatic (ie: *painful*) than I expected. I had planned on creating my gift on Friday but just couldn't. I was pressed for time on Saturday, the day of the shower, and needed to change plans slightly.
I made this cloth book. It was plan B, admittedly. It is an easy go to & makes the perfect gift for a little one. A baby can chew on it, spit up on it, drag it around...Hey! It can even double as a burp cloth over your shoulder--just flip the page each time. haha.
Then just toss in the wash!
Cloth books make great beginner sewing projects & the recipient will *always* love them & won't even notice any mistakes.
Since I was unable to go with my original gift idea, I also added home made baby wipes/wash cloths. Another simple 'go-to'.
I cut squares of flannel I had on hand and serged all around the edges. Voila'!
Soft, economical AND eco-friendly + an easy way to stash-bust.
I wrapped everything in a sweet bow and placed in a brown paper gift bag. Birdy cut out & then glued on extra fabric motifs from the cloth book to the sides of the bag.
The recipient loved it.
And her shower was absolutely lovely!
The table centerpieces were gallon sized succulents wrapped in brown paper & twine. Each guest received a small succulent plant wrapped the same way. So sweet. The best looking gender-nuetral shower I've ever seen. (the parents to be have chosen to keep baby's gender a secret--even to themselves-how exciting!)