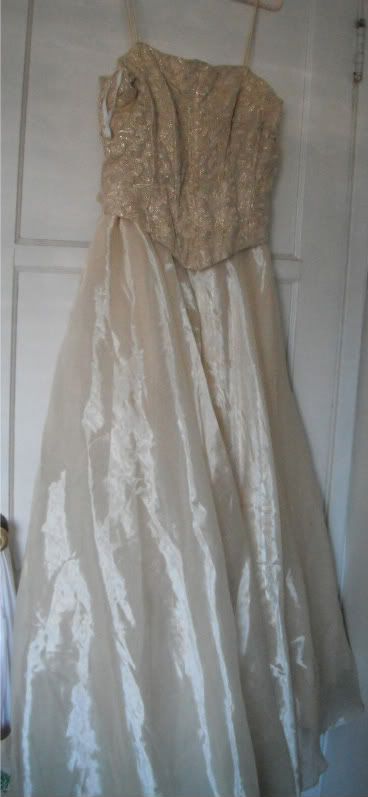 BEFORE
My daughter needed a dress in a pinch and it had to be this champagne color. I hit the thrift store first to see if there was anything I could work with. I found this monstrosity of champagne and began to research.
I was inspired by the recent trend in tutu dresses and decided I would go in that direction.
I seam ripped the bodice and top off, serged the under and over skirt pieces together. I despise the slipperiness of froo-froo fabrics so I was trying to avoid any of that by serging the two pieces together from the get go.
The other color we needed to work with was apple red. I went to my local craft supply store and stocked up on some fabulous & sparkly butterflies, flowers and wide satin ribbon for nearly a steal!!!
I basically pulled the skirt portion up to my daughter's underarms and attached straps. It was a challenge to get it to stay up. I had problems with the elastic--it kept stretching instead of staying tight and keeping it up on her. I am not sure what I should have done differently but eventually I got it to stay well enough. I gathered the fabric across the back while the front sits 'flat'.
I trimmed the top of it with the wide red satin ribbon and also used it to create the straps. It wraps around the sides and ties in a bow in the back with the ends hanging down the length of the dress. Based on the styles I have seen on the tutu dresses, I attached a very large flower on the front.
I did not like the flower once it was on, maybe because of the leaves? But I wanted the leaves because the ribbon was a tad different shade than what we needed and the flower was more accurate and covered up the ribbon. I glued the the flower to a large safety pin so it is totally removable.
Then I hand sewed a few tiny sparkly red butterflies on the skirt portion.
AFTER
original dress $5 (thrift)
giant flower $5 (most expensive piece!)
tiny butterflies: $1.20 (more left over)
wide satin ribbon: $3 (25 yards--plenty left over)
TOTAL: under $15
Initially I did this for my daughter to wear as her flower girl dress for a wedding--but then the bride & groom decided to go with something else. I will remove the large flower and this will now be her Christmas dress this year. I am pleased with the result & think it's absolutely lovely.
arg! IDK why blogger squished that after pic!