I HATE paying exorbitant prices for horrible, cheaply made costumes plus I LOVE making our own. These costumes were *pieced* together. I repurposed some items and added home made details. We went with an Alice in Wonderland theme this year, inspired by Tim Burton's version.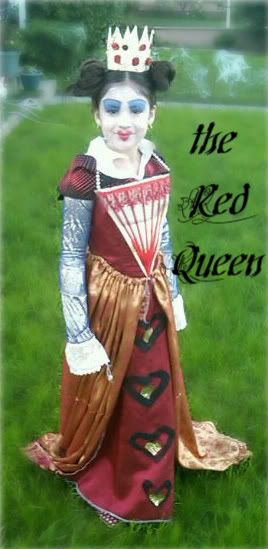 I started with the base dress from the thrift store. I purchased the over skirt fabric (%50 off sale, of course). I made a mistake & purchased that bit of red/black fabric you see on the top of the shoulders, thinking the costume had bustles on the side. It did not. I was going to incorporate it more on the sleeves but didn't in the end. At least that was also %50 off. Oh and I also purchased a bit of gold fabric that is the undersleeve and base of the bodice. I used an outgrown, collared button up shirt that was destined for the donation pile for the collar.
I added stiffening fabric (is there a proper name for that? lol) for the triangular bodice w/ the gold over. I found some red beaded trim in my stash and a plastic pearl necklace from my daughter's costume jewelry collection. I attached all those pieces plus strips of red grosgrain ribbon with hot glue.

We took apart an old flimsy toy hamper thingy and salvaged the blue netting for the sleeves & saved the wire for *later*...I repurposed a rectangle lacey table topper and used it for the end of the sleeves & saved the rest for *later*.
I cut hearts from the fabric I trimmed to shorten the dress. I turned them around because the underside was black & hot glued them on and also glued small gold hearts in the middle.
I inserted elastic (salvaged from an outgrown pair of undies) into the over skirt and secured it with strategically placed safety pins.
I used the stiffener stuff again for the crown, hot gluing it into a circle shape. Hot glued the gold fabric over it & added vintage buttons from my stash, yes, again, hot glued! Oh & the trick to making it stay on her head....I hot glued tiny claw clips inside. heehee!
Then we added the face make-up & Voila'!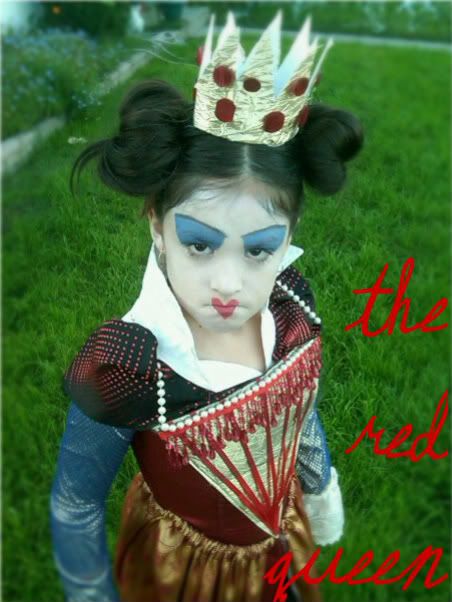 She really knows how to get into character, don't ya think?
Can you believe that HAT? Me neither. And you won't believe how ridiculously easy it was to look so impressive! It's all cardboard inside. really. Someone posted a political sign on our lawn in the middle of the night. We weren't too happy about that but we put it to good use....we used it for the main cylinder of the hat. heehee. Then there is a thicker piece of cardboad on top of that. I did buy 2 peacock feathers that are on the side and we tied the shoulder fabric from a dress my daughter recently wore to a wedding, around it.
I purchased a bit of fabric for the top part. The brim utilized that wire from earlier and some fabric from a t-shirt sheet I originally used as a baby sling for my littlest one. He already had the suit jacket, it was outgrown and also destined for the donation pile. I hand sewed the lace from earlier like I did to the queen's sleeves to the end.

We scavenged all of my spools of thread and tied them together with yarn and then attached them to a belt that no longer fit anyone. I used some colorful fabric I already had to create the bow.

He had pants that worked from a previous Halloween, left over from being the Scarecrow from Wizard of Oz. He finished off the look by wearing his sisters colorful striped socks. My husband did his make-up.
Last but not least was our youngest. My husband found this fleece while we were doing some last minute fabric searching @ Joann's. I think it was perfect, don't you agree? I ended up with way too much but better than not enough. I'll use the rest for something... I salvaged the zipper from a reversible dress that will eventually be made into an apron.
I used a footed pajama he already has for a rough pattern by tracing an outline of it. It has a tail attached to the back. The pink of the ears are from another outgrown pair of undies. He was quite cozy...even though by the time all was said and done, he would run away from us when we tried to put it on him. LOL

We were all pretty pleased with the results. Yes! I did make myself Alice...and that costume was acceptable but by no means anything to brag about. ;-)