As part of my
"make do or do without challenge"
, I have not wanted to purchase any gifts (or much of anything, personally!). Instead I want to be more creative and save money at the same time. Well, toddler gift giving fits the bill. We had a party this weekend and I was able to whip this up before we party time. Inspired by & tutorial
here
!
We used a stuffed animal (w/ no sentimental value) we already had and dismembered it. I happened to have on hand, this very plush snuggie shawl that I had already cut a portion of for something else. It made the perfect "pillow" part of the body. Attached body parts & sew into a square. It's pretty simple, although attaching the head can be a challenge for the novice. I already had stuffing on hand too. It cost me no physical $$$, just my time. Isn't it SO cute?
Well, then my daughter felt inspired....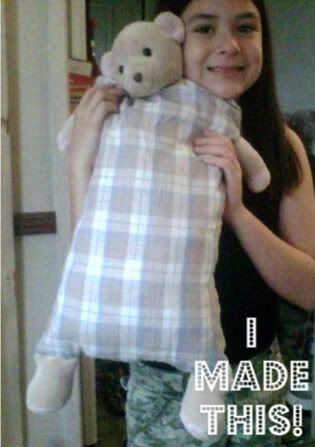 She took another non-sentimental value "stuftie" and created this for her baby brother. How sweet huh? We were running low on stuffing so we re-used a pillow no one was using anymore. Of course, you could not do that if you wanted to sell your creation, but for home use--it's the perfect *upcycling* use of a pillow. We also though using a patterned fabric made it much cuter than a plain solid. K just LOVED it and kept trying to take it from her before she was even finished! I helped her sew over the limbs and hand sew it closed, but she basically did the rest herself. Can I mention how proud I was seeing her working at my sewing machine?
I am also hoping this will inspire my kiddos to pare down their *stuftie*
hoard
collection
.
;-)