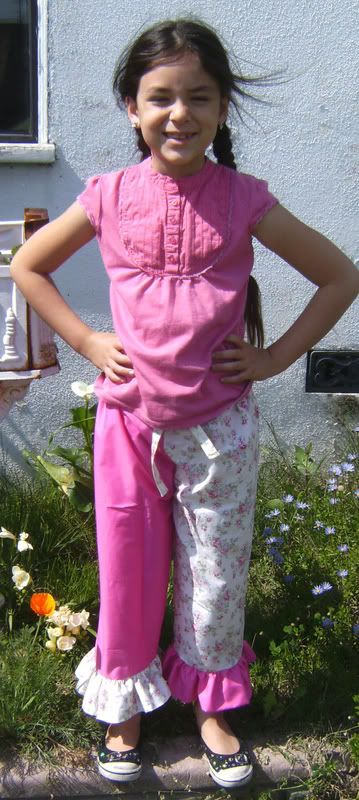 Ok

, this was a funny story...The weather is unpredictable right now. Chilly sometimes so

Birdy

needed

some

pants. Just like the spring weeds & flowers, she has sprouted right up & outgrown all her pants, in length. Again, figured I'd

just

whip a pair out for her.
I used a pair she had as a rough

pattern

.

Buuuttt

...I made the mistake of not

making

sure I had exactly the right amount of fabric for TWO legs! I was about an inch or so short on the width! Oh what to do???
So I decided to simply make them 2 different legs. After sewing them all together...I had to admit they kinda reminded me of *clown pants*. DH & oldest

DS

agreed w/ me in the nicest way possible....I did *not* tell her that though.
I called her in to check the fit. When she saw them she excitedly exclaimed: O! I LOVE them!!! Now you need to make me a matching shirt!!!
The only thing was: she thought they were

PJs

! Not because of the mismatch print though....but because of

the

width of the pant leg. They appear very wide when not on.
And I simply did a tie waist again. It's too easy not too & I don't have enough elastic right now to do anything else.
O! & those ruffles....totally HER idea! I abhor gathering....I would have put a straight cuff.

heehee
She definitely has her *own* sense of style & I just LOVE that about her.