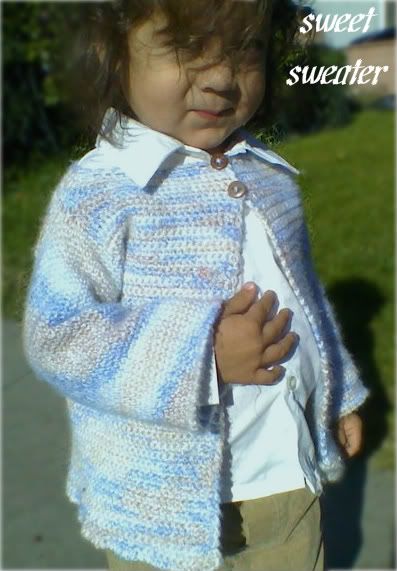 Just in time for it to get WARM! of course. I did not follow a pattern, as most I found require you to crochet all separate pieces and then sew them together. I hate having all those separate pieces.
I simply started from the bottom, worked my way up, back and forth, creating one base piece. I did do the sleeves separate but I worked those from the chest out, in rounds, resulting in a bit different texture than the rest of the sweater.
I attached two vintage buttons to finish it off.
It fit him quite well, I think only for this season though. I could have done a few more rounds for the shoulders but I was afraid of running out of yarn. I had enough left over but when I did the shoulders I had not worked the sleeves yet.
The way I kept it as one piece was this: I started a chain (bottom of sweater), worked back and forth. As I got up high enough to the arm holes, I only worked so far as to the hole, back and forth. When it was as 'tall' as I wanted, I slip stitched down the inside side and then began the back rows. Back and forth. Same thing down the side to work the other side front. Then I attached all pieces across the top working back and forth. To create the shoulders I began to decrease my stitches to bring it in.
I worked the sleeves in rounds from the armhole out. I did not realize at first the different texture that was being created because I was not going back and forth. It turned out ok though. If I have time...later...I'll try to work up a pattern...someday
.
:-)