My first pattern!

I made these little ornaments for the season. I created the pattern myself although you can find many similar free patterns online. I've tried writing my patterns down in the past, and let's just say, it didn't go very well. This one is simple enough that I think it's understandable. If you are an experienced crocheter, you can create your own pattern and/or you can even add more *arms/petals* to it, to create various sizes.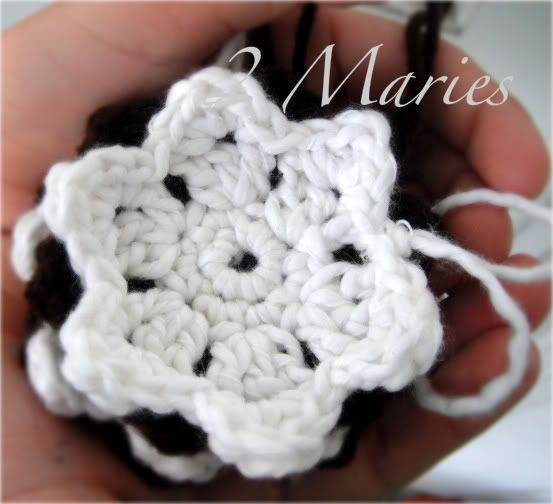 H hook (but really, you can use whatever you have or can find--I lose my 'favorite sizes' often! LOL eyeroll)
chain 4 (or start w/ magic ring),slst (slip stitch) in first chain to create ring.
round 1: work 6 sc in ring, join with slst
round 2: 2 sc in each sc (12 sc) join with slst
round 3: chain 3 in next st (counts as dc), 2 dc in same stitch, sk next st, *3 dc in next st, chain 1, skip next st, repeat from * 4x, join with slst
round 4: chain 1, slst in first chain, * (sc, dc, sc) in next st, sk next st, sc in ch-1 sp, sk next st, repeat from * 5x join with slst.
Pull loop up to create a long loop for hanging. Knot at bottom to secure.
If you use white yarn, these look like snowflakes, don't they?
If you use cotton yarn, they make great make-up removing or small facial cleansing cloths.
You can create a garland by *not* pulling up yarn loop & cutting.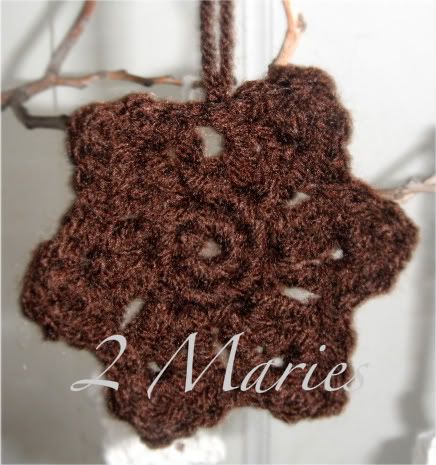 My gift to you.
Merry Christmas!