I made this quilt for a friend, on Saturday. I chose a simple, large square lay out to simplify the process and build it quickly. However, my machine began to be temperamental as soon as I changed the presser foot to the quilting foot. I could not figure out what the problem was, something with the tension. After hours of fighting with it and having to rip out all the quilted seems....I finally gave up and switched back to the regular foot and simply quilted it with a square motif and was finished quickly. Except by then, the shower was over. :-(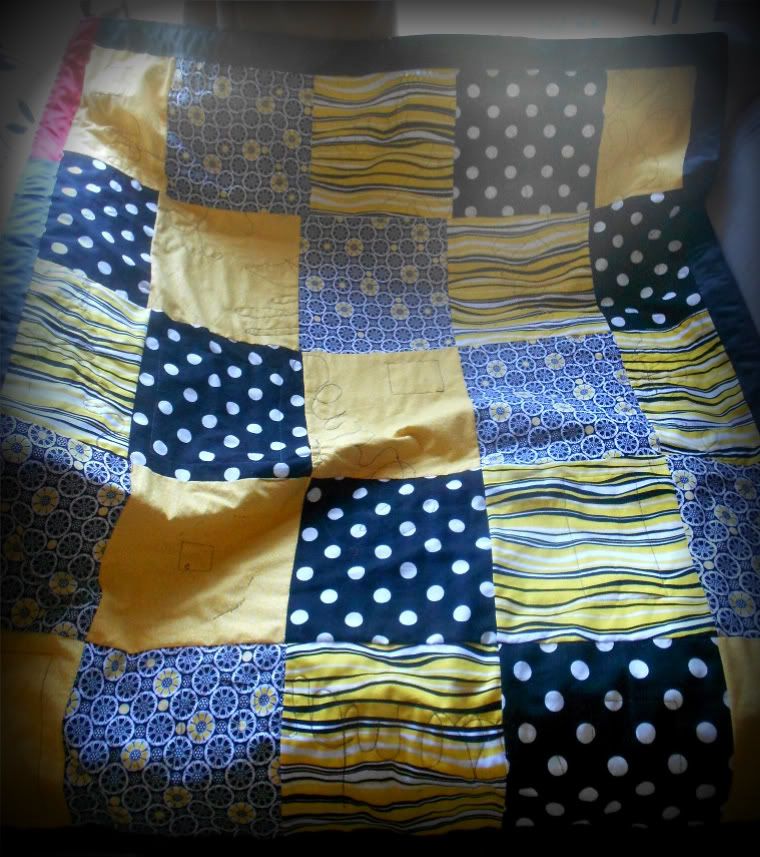 Her baby theme colors were black and yellow, like a bee. I love how it turned out over all. Another friend is having a surprise-gender-baby and I think this color scheme will make the perfect neutral. I plan on making another one but with more red accents. I have a good amount of fabric left over.
The back fabric is flannel. Doesn't it look like a honey comb? I did not use any batting, which makes it a great weight. Not too heavy, not too light. The 'scribbles' you see in the quilting are words; fruits of the spirit. I think I had to remove one or two permanently due to the tension issue. I was looking at it tonight and it looks like most of them survived.
I thought the words would show up better on the honey comb side...they don't. So the front yellow pieces have bold black threaded words running through them, backwards. The momma like it though, that is all that counts.
This was also the first time I used satin binding. It was pretty easy to work with except for the fact that I ran out on a small section--which is why it is red. The red adds to it's 'modern' charm, though.