I must've forced the Mr. to curb crawl this side table months ago if not last year. It took residence on our porch, sadly calling out to me every time I went in or out of my front door. I planned to get to it
as soon as I could
.
Same old story, right? Well, this weekend I was in a creative frenzy. I finally dragged-ok had oldest carry-that heavy little table to the back yard and the Birdy girl & I got to work.
I used primer, since I wasn't going to do any sanding, I already had on hand and some grey-blue oops paint I had also scored months ago.
We painted Birdy's room white this summer and have slowly been decorating it a neutral white on white since the male toddler is also housed there. Birdy also has this idea that she wants her room *vintage*. Well, this side table certainly fits that description.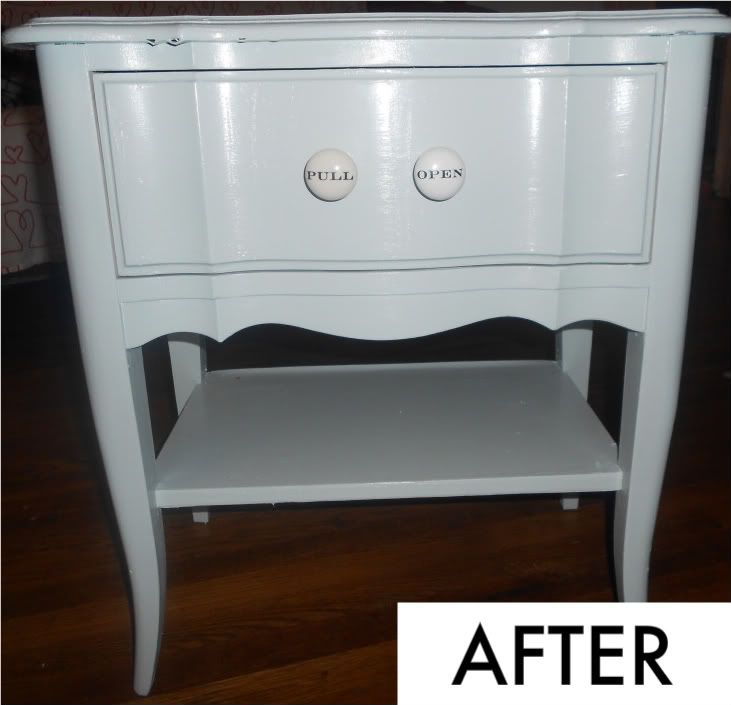 It's not a new piece, but it definitely has much more life in it now!
It was the perfect day to paint it too, warm and dry. Almost too warm. The coats dried quickly so we were able to complete the entire piece in one afternoon.
I found the drawer pulls at Michael's Arts & Crafts store for only $1.50 each. Initially, I purchased them thinking I could use them for my own desk that doesn't have any, but the screws were too big. They fit the drawer in this table perfectly!
Aren't they just adorable? I thought so too.