I was searching for a dress for my graduation and this one at Target caught my eye. It was $24.99. The fabric was a nice and soft polyester. It didn't seem to be a very complicated style though...or so I thought. I was sure I could recreate it myself. I loved the knee-length and the no-cleavage-show neckline.
Here is the inspiration dress--from the dressing room in Target.
It's flattering, right?
How hard could it be...it just
hangs
there...
Initially, I went to work to find a pattern. Guess what? NO pattern. Trust me I searched the pattern books, online AND in person. I was going to have to go this *alone*.
I did find an online tutorial for a sleeveless maxi-dress that had a slight drape along the neck--but otherwise, it was nothing like this dress. I used that tutorial simply as a yardage reference. It recommended 1.5-2 yards of fabric.
I also wanted this deep magenta color. I headed to Joann Fabric's to see what I could find.
I purchased the closest thing to magenta they had and a green in the same--both fabrics were polyester, which is exactly what the original fabric was.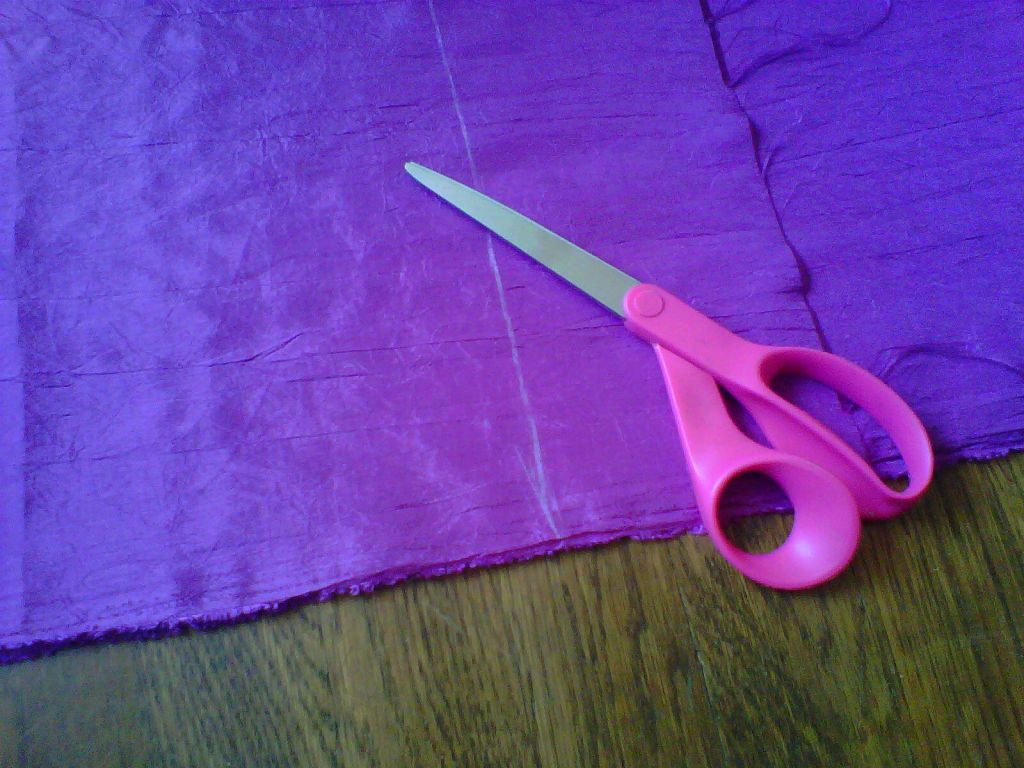 Oh! I was SO afraid to actually CUT the fabric. I finally went back to Target & purchased the original dress so that I could take it's measurements and inspect it a little more closely. I purchased it in green so I would not be tempted to keep it.
I wrote down all the measurements and promptly returned it.
I finally built it, after fighting with the bobbin thread. The front was not as drapey and the sleeves were too short? I realized the front was supposed to be 48 in across and I had cut it to 36 in across. EEK! Ok...I cut two panels and added them to each front 'sleeve'. Ok..it could work.
I sewed an elastic waste. I used a circle of elastic I had in my stash--from a pair of underwear (I always salvage the elastics) one of the dogs had chewed! The waist ended up being a tad bit too high and the sleeves a bit uneven.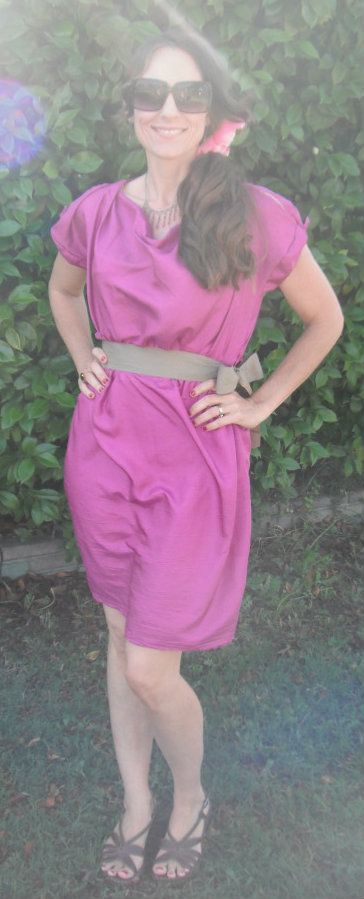 BUT otherwise, I LOVE it! I tied the sleeve edges together and you don't even know they are uneven!
TADA!!!!
It was a little breezy when I took this pic. Sorry.
I wore this dress to my graduation banquet.
Then I found another polyester fabric that had a different weave that was much closer to the fabric of the original dress...I knew I just HAD to use it for my actual
graduation
.
THIS is my entry for the sewing challenge!
The school colors are black & yellow. My DIY invitations -announcements were black and white polka dots with a yellow ribbon accent. I knew I just HAD to get this fabric and accent it with yellow.
The sleeves came out much better since I paid better attention to the correct measurements the second time. haha.
This fabric draped much nicer. The neckline actually drapes lower than this picture implies.
I have two more fabrics to make two more dresses. I LOVE this style THAT much. (oh--so that makes 4 dresses for just a little more than the price of the ONE original dress after I purchased sale fabric & used a coupon! Kerching! Kerching!)
The hardest part was the shoulder seams. The front neckline is actually folded under and sewn to itself with the back neckline in between. It created some trickiness for sure.
What I love most about this style is the ability to dress it up with accessories and heels or dress it down with casual flip-flops and no belt. As far as building it-it's also VERY forgiving to create. The addition of a belt or ribboned waist hides any perceived flaws in the elastic waistline. It's also a flattering shape for the body because it is not clingy. It's comfortable and easy to move in because of the flow and loose style.
Except for the slight issue with the shoulders...the style isn't too hard to actually build. I didn't even hem either one of them. The pink (can that pass for magenta?) one I kept the selvage edge along the bottom so I wouldn't have to hem. The polka dot, I simply serged the bottom. When I make another one...I will probably serge the sleeves as well. (I did tiny hems on all the upper body edges)
Do you want to make one of these dresses now? I think you should. I'm thinking there are so many possibilities....ribbon tied shoulders? tank cut shoulders? etc.
Just keep picturing it as basic shapes: rectangle bottom and upside down triangle for the top. Voila'!
If you make one...be sure to share it w/ me cause I'd love to see it.
Linked to: