A few months ago I finally started a project I've been wanting to do for awhile. It's an art journal. It combines basic journaling with more artistic flair...from what I can tell.
I've also been using a technique often referred to as an 'altered book' because I took an actual hard back book and used the pages for my own purposes. My book is a combination scrapbook, journal, and inspirational quotes and verses. So basically everything and anything, whatever I feel like at the time.
My children can draw but that is one artistic endeavor I seem to have no skill in, so I never attempt it. However, I can do simple shapes. The other day I had a vision, a divine inspiration in the form of a picture in my head. I decided to attempt the picture into my book. I like how it came out...but now I want to add a couple verses to the page...
(forgive me, I do not have a 'real' camera that works so I am limited to my camera phone! :-(
If I make the images any bigger they are horribly blurry)
It's a sketch of a tree.
The roots of the tree have the words HOPELESS in them.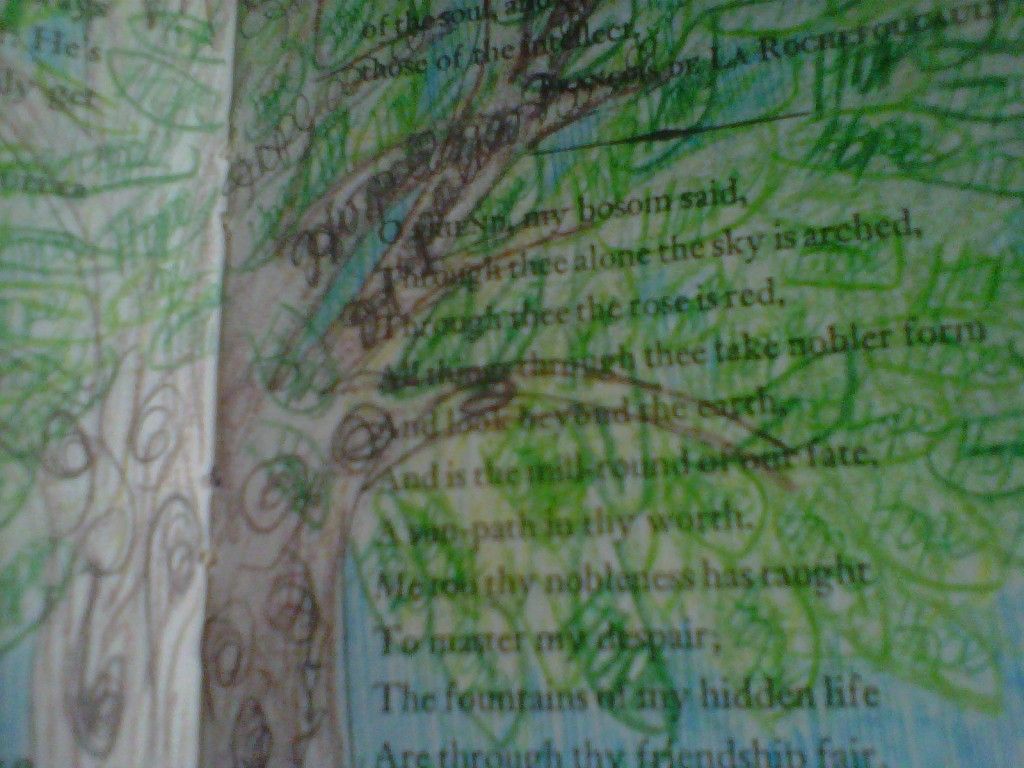 Whether you can see it or not, ALL the leaves have the word HOPE written in them.
I have since learned there are two verses that refer to 'healing leaves'.
Rev 22:1 Then the angel showed me the river of the water of life, as clear as crystal, flowing from the throne of God and of the Lamb
2 down the middle of the great street of the city. On each side of the river stood the tree of life, bearing twelve crops of fruit, yielding its fruit every month. And the leaves of the tree are for the healing of the nations.
Eze 47:12 Fruit trees of all kinds will grow on both banks of the river. Their leaves will not wither, nor will their fruit fail. Every month they will bear, because the water from the sanctuary flows to them. Their fruit will serve for food and their leaves for healing."
I did not even realize these verses existed. One night after our family prayer and worship time I asked one of my sons, "What is God telling you right now?"
"Let the leaves awaken to speak."
"What?"
Did I hear that right?
"I don't know, that's just what He said."
"I know but what was it you said?"
He repeated himself and I knew immediately it related to the picture-he knew nothing about it. I showed him and felt pretty excited about it. The next day I unexpectantly met with a friend to pray. She happened to reference the Revelation verse quoted above with out me even mentioning my picture. I was excited to show her and tell her what my son had said.
God works like that, putting all the puzzle pieces together. He speaks to us in images, words, thoughts, ideas...through any and everything. This was extra fun for me because I rarely draw...my children are always drawing prophetic pictures at church. So this was a new experience for me.
I really enjoy the art journaling because it allows me to create a page and fulfill my urge to create, rather quickly and easily. I mostly use layered papers and stickers to create a page I can write on. I also have verses.
I will add more posts with pix of other pages, later.